BIG SUR HISTORICAL SOCIETY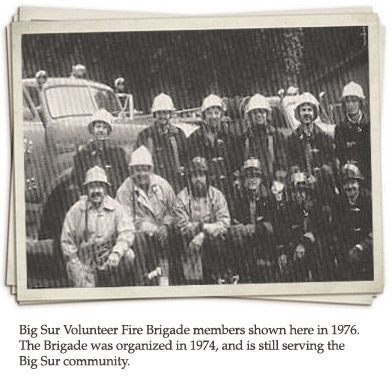 The Big Sur Historical Society was founded in 1978 to preserve and promote Big Sur's rich cultural heritage. Over the last 28 years BSHS has grown to an organization with over 100 members, an Archive building and a Museum located in the historic Ranch House at Andrew Molera State Park. BSHS gratefully acknowledges the cooperation of Post Ranch Inn and the California Department of Parks and Recreation in making space available for our Archive and Museum.
MEETINGS
General membership meetings are held 3 – 4 times a year and are usually a field trip with picnic lunch to local area of interest. Trips are often to private property and so are member-only events.
MEMBERSHIP
Please join us in our preservation efforts by becoming a member. Membership categories: (due annually, except Life Member)
Individual 10.00
Family 15.00
Business/Institution 25.00
Sustaining 50.00
Life Member 250.00
Send a check for the specific category along with your name, address, and telephone number to Big Sur Historical Society, P.O. Box 176, Big Sur, California 93920.
DONATIONS
Tax deductible donations to the Big Sur Historical Society Museum/Archive Fund are gratefully accepted. Please mail your check to Big Sur Historical Society, P.O. Box 176, Big Sur, California 93920.
The Big Sur Historical Society is a 501 (c) (3) organization that is registered to solicit donations in the State of California only.